ICICSP 2022
November 26th (Sat.) - November 28th (Mon.), 2022 / Shenzhen, China(中国 深圳)
Conference Information
Conference Date
ICICSP 2022
11. 26-28
ICICSP 2021
2021 4th International Conference on Information Communication and Signal Processing (ICICSP 2021) was held in Shanghai, China during September 24-26, 2021 successfully, which will be held in Shanghai, China on September 24-26, 2021, sponsored by The 54th Research Institute of China Electronics Technology Group Corporation, China; technical co-sponsored by Shanghai Jiao Tong University, IEEE and Shanghai Section.
Under this special pandemic situation, ICICSP 2021 is held with hybrid online and offline. We totally have 2 keynote speeches, 3 plenary speeches, 10 oral parallel sessions (5 onsite+5 online sessions), 2 special sessions (Underwater Acoustics, Ocean Exploration, and Signal Processing & Acoustic Measurement and Signal Processing of Aircraft and Their Equipment), as well as a panel session delivered by 9 invited speakers.
ICICSP 2021 conference proceedings have been online in IEEE Xplore, indexed by Ei Compendex and Scopus. ICICSP 2021论文集已被Ei Compendex核心以及Scopus检索 (会议结束后4个月).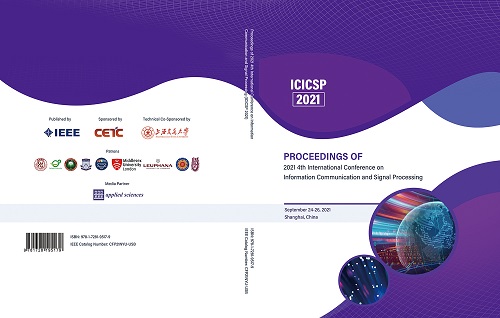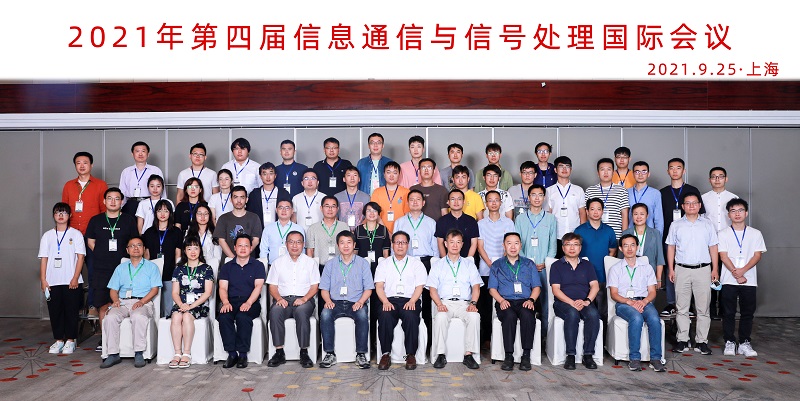 2021年9月24日-9月26日, 由中国电子科技集团公司第五十四研究所(通信网信息传输与分发技术国家级重点实验室)主办,上海交通大学支持的第四届信息通信与信号处理国际会议(ICICSP 2021)以线上线下结合的形式圆满召开。此次会议旨在展示理论、实验和信息通信和信号处理等领域的最新进展和研究成果,会议主题聚焦无线通讯、信号处理和应用等多个领域,为世界各地的专家、学者、工程师和学生们提供一个高质量的交流平台,方便分享最新研究成果和经验并进行下一步的深入探讨。
9月25日,大正式拉开序幕。中国电子科技集团公司第五十四研究所吴巍教授,致欢迎辞,对与会来宾表示热烈欢迎,并对此次会议的特殊情况做了简短的解释说明。随后,大会技术委员会主席上海交通大学蒋伟康教授,对会议的投稿、录用等相关情况进行了阐述,对会议投稿的创新和亮点做了简单的总结。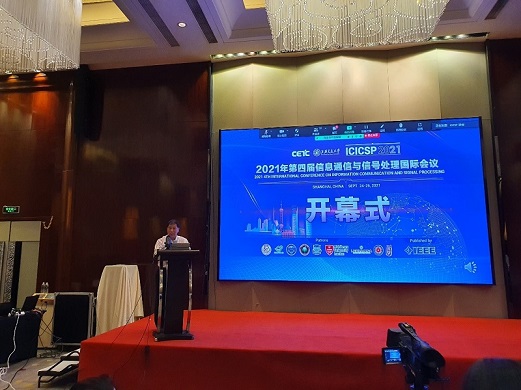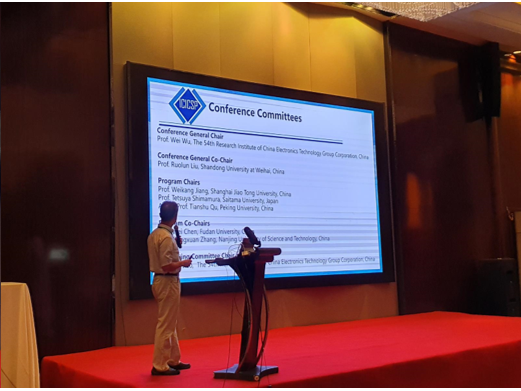 上海交通大学余亮博士主持了随后的主旨报告上海大学徐树公教授 (IEEE Fellow) 就"AI+5G"这一主题发表了精彩的主旨演讲; 西北工业大学的陈景东教授(IEEE Fellow)带来了题为"Speech Enhancement and Signal Parameter Estimation with Microphone Arrays"的主题报告,与会代表获益匪浅并对两位教授的演讲给予了高度的评价。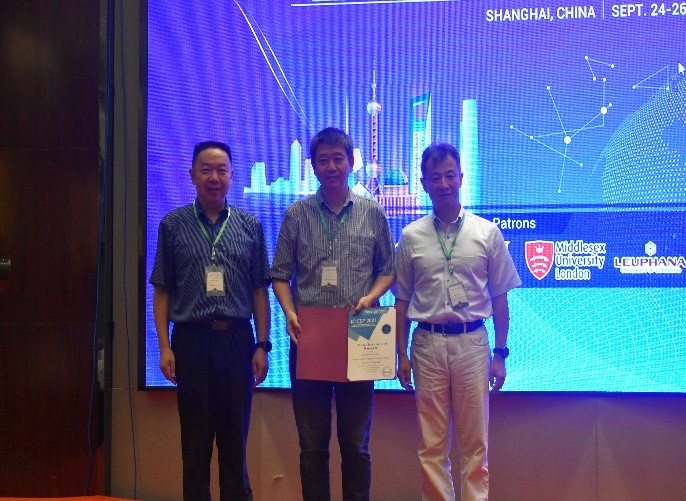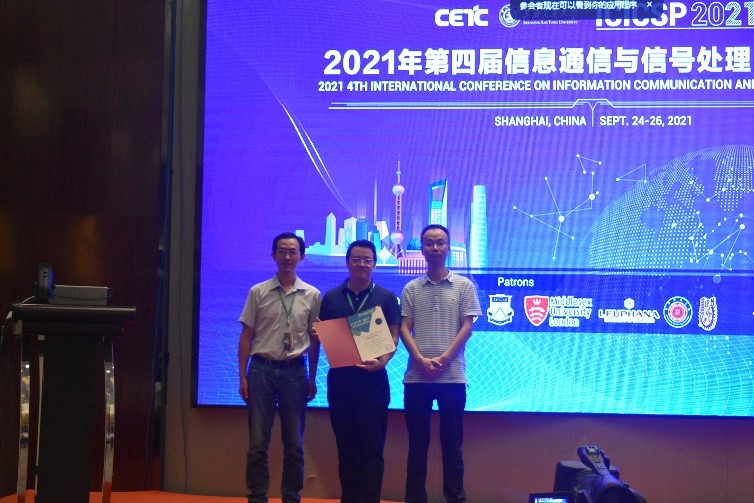 大会还特别邀请了来自上海交通大学的李劼教授分享了主题为"Big Data, AI, and Blockchain for Industrial Internet"的报告,随后复旦大学陈炜教授分享了"Intelligent Wellness Sensing and Health Informatics"的报告,最后,伴随南开大学岳洋教授 "Specialty Optical Fibers for Optical Orbital Angular Momentum Communications"的报告主题,结束了25日上午的专家报告环节,参会嘉宾获益良多。

除此以外,25日下午,由上海交通大学蒋伟康教授以及余亮博士发起的"航空飞行器及其设备的声学测量和信号处理"的专题论坛准时召开,余亮博士首先就"航空装备的气动声学测量和信号处理"的主题进行了报告分享;其次,另外2位特邀的专题报告是由合肥工业大学的毕传兴教授以及重庆大学的褚志刚教授开展,他们的报告主题分别是"时域近场声全息理论、方法及应用"和"牛顿正交匹配追踪压缩波束形成理论和方法", 与会作者与该领域的几位专家学者们进行了深入交流,达到了相互进步的成效。 伴随着"航空飞行器及其设备的声学测量和信号处理"专题进行的同时, 由国防科技大学的吴艳群博士以及张文博士发起的"水声、海洋探测和信号处理"的专题论坛也顺利召开。

组委会此次还安排了专题座谈会,德国吕内堡卢法纳大学的Paolo Mercorelli教授, 上海交通大学高岳教授, 中科院徐曦煜教授, 西北工业大学陈捷教授,广东海洋大学张培珍教授,上海交通大学姜雪博士以及崔颖博士,西湖大学张岳博士,中科院牛海强博士,浙江大学初宁博士参会并分别做了报告。
除了2个专题论坛,以及1个专题座谈会,本次会议围绕"信号检测与识别、声学与电子技术、目标检测与识别、图像处理技术及应用、信号分析与处理、通信理论与技术"等几大主题,安排了10场分会(线上+线下)就各自论文开展研讨,与会作者在进行报告论文的同时也与该领域的专家学者们进行了深入交流,达到了相互进步的成效。
Best Presentations as below:
Onsite Session 1-S025 Sen Jing, Peking University, China
Onsite Session 2-S064 Yunqing Liu, Shanghai Jiao Tong Univeristy, China
Onsite Session 3-S049 Youchao Deng, Tongji University, China
Onsite Session 4-S1005 Zhang Qing, Qufu Normal University, China
Onsite Session 5-S090Jiahui Yang, South China Normal University, China
Onsite Special Session 1A-S113 Yang Shen, Hefei University of Technology, China
Onsite Special Session 1B-S1012 Long Wei, Beijing Institute of Structure and Environment Engineering, China
Onsite Special Session 2A-S032 Yuyao Liu, National University of Defense Technology, China
Onsite Special Session 2 B-S088 Xiaoying Fu, Harbin Engineering University, China
Online Session1-S098 Dongxu Liu, Zhengzhou University, China
Online Session2-S071 Zhengzhi Lu, Xi'an Jiaotong University, China & S107 Ai Oishi, Shibaura Institute of Technology, Japan
Online Session4-S004 Zhenhong Chen, Beijing Institute of Radio Metrology and Measurement, China
Online Session5-S011 Ying Yan, Yunnan University, China
---